01. Email Marketing 101
When you sign up to receive email newsletters from your favorite blog or email updates from your favorite store, you're giving that person or business permission to send you emails. And it's the email sender's responsibility to give you what you signed up for; whether it's an email newsletter or a limited-time sale.
As you receive those emails, you might notice that you grow more attached to the brand, engage with their content and maybe buy a product or two.
When all of that happens – relationship building, customer nurturing and business growing – that's email marketing.
Email is still the most personal form of digital marketing. Social media comes and goes. If we're connected via email, we're connected for the long haul.
- Nick Westergaard, Brand Driven Digital
It's not about sending spammy messages or buying email lists. And it's more than simply sending commercial emails to others.
It's about communicating with multiple people at one time (in a way that feels like a 1:1 conversation), building relationships and growing your brand as a result.
How can email marketing help your brand?
For many small business owners, bloggers and entrepreneurs, managing the daily operations of a brand is a full-time, borderline 24/7 job. While you may try playing the Jack of all Trades, you've probably encountered a few (or many) times where it's felt like there's never enough time to do it all.
Juggling all of those responsibilities often causes certain things to fall to the wayside, like marketing or building an audience. You're already struggling with managing the "essential" tasks, how could you possibly add another thing to your to-do list?
With email marketing, however, promoting your business and connecting with your audience becomes a whole lot easier – and that's only a snapshot of the bigger email marketing picture.
Now, you may have heard that email was declared "dead" just a few years ago.
With the rise of social media, many assumed it had become irrelevant – and therefore ready to join the resting places of has-been marketing tactics like phone books and telemarketing.
But we were proved wrong. As creating educational content to engage and build relationships with customers became the cornerstone for every blogger and business, email evolved with it.
Just look at the benefits.
Email marketing delivers a return of 4,300 percent (!). Plus, it's more cost-effective than other forms of marketing. And it frees up your time so you can get back to running your business. Best of all? Consumers love it.
The stats don't lie: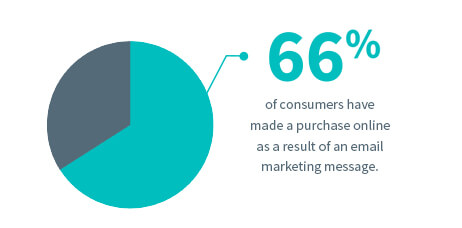 Imagine this scenario for a moment: A bright eyed-individual is exploring your website. She looks around a few pages, but leaves with an empty shopping cart when she doesn't see a sweater in her favorite color. Maybe she'll return and consider making a purchase, but the chances are slim.
Now imagine if there was a way for her to hear from you again; a chance to sign up to your email list and guarantee future interactions – future interactions that might lead to a satisfied customer who found a sweater in the perfect shade of teal.
Email becomes so much more than just another way to advertise your brand.
Considering that most people prefer to communicate with brands through the inbox, email marketing is a no-brainer.
Ready to get started with email marketing? Try AWeber for free today!
---