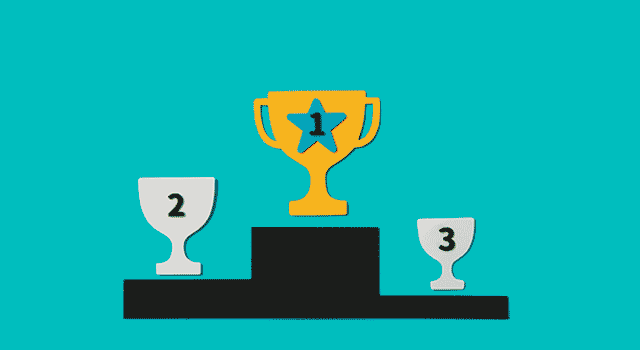 05. Design Beautiful Emails
Great content is an essential part of a successful email, but it cannot stand alone without design.
Consider this: visuals are processed 60,000 times faster than text, and they have the ability to influence a person's emotions, which then impacts their behavior.
If you're not a pro designer, the task of designing an email may seem a bit intimidating. But if you follow the basics of design or use a pre-made email template provided by your email marketing platform, sending beautiful emails can be as easy as clicking send.
Email design best practices
Here are some best email marketing practices for designing your emails:
Use a color scheme that's consistent with your branding, yet easy on the eyes of your readers.

Avoid a layout with more than one column. Multiple columns can clutter your email and make it difficult to read on smaller mobile devices (which can represent at least half of your readers).

Break up chunks of text with visual images. Readers prefer short blurbs of information, which can be easily achieved by including images and lines when necessary.

Feature your most important content at the top of your email to grab your readers' attention; less salient information should appear closer to the bottom. Also, consider including a brief overview of the your email content in the header of your email. Subscribers want to easily scan and pick out information that's relevant to them, and providing visual hierarchy makes this possible.
To help you get started and inspire the creative guru within, you may want to sign up to other email lists and see how they design their own emails.
HTML vs. Plain text emails
Two of the most common formats for creating emails are plain text and HTML. HTML emails allow you to do things like change the color or treatment of your fonts so they appear bold, italicized, or underlined. It also makes it possible to include images. Plain text emails only allow text; no images or special font treatments allowed.
You might have heard other email marketers say they prefer plain text emails over HTML, because they fear certain email clients such as Gmail and Yahoo won't display their images properly.
Fortunately, all of the major email clients should have no trouble presenting your HTML emails to your subscribers – which means you should feel comfortable including images, graphics, colors and more in your emails if you so desire.
It does become a concern, however, if something is broken in your HTML. That's why certain email service providers like AWeber automatically creates a plain text version of your email. So if something isn't working properly with an image in your message, your subscribers will see copy that tells them exactly what they're missing.
In the end, it's up to you to decide what types of emails you want to create. If simplicity is your goal, do keep in mind that you can still achieve this look with an HTML message.
Build emails for mobile
More than half of all emails are opened on a mobile device. Unfortunately, less than half of marketers are actually designing their emails to be mobile-friendly.
The experience your emails create should be a great one, no matter where your subscribers are interacting with it.
Here are some mobile email marketing tips to keep in mind when creating emails:
Optimize your images. Use visuals to break up large blocks of text and make your emails easily scannable. But be careful not to include too many images – this can cause your emails to take longer to load, which can cause your subscribers to lose interest.

Use white space. Avoid overcrowding your emails with content and images. Blank space in your emails frames your content nicely, which helps increase readability.

Have clear calls to action. Use accentuating colors to highlight your call to action, and make sure the button is large enough to be easily tapped on a mobile device.

Keep your content brief. Those who read emails from small mobile devices are more likely to skim your content, so keep the copy brief, with the most important information up at the top.

Learn to love simplicity. With a variety of devices and screen sizes, it's best to keep your email design as simple as possible to ensure it's universally compatible.
Most important of all? Be sure to test your emails. Use a tool like Litmus or Email on Acid to get a preview of how your emails will look on different devices. If something looks off, you'll have time to fix it before sending it to your subscribers.
Build beautiful emails with our easy-to-use templates. Try AWeber for free today!
---
Get your FREE email Toolkit, including strategy templates and worksheets!