06. Schedule and Send Emails
Choose a date and time
While you can immediately send a broadcast email as soon as you're ready, you might want to schedule your emails ahead of time. A big benefit to scheduling your emails is that you get to send emails at a time when your subscribers are more likely to open them.
To determine the best day and time to send your emails, you should start by researching the average optimal send times in your specific industry. This is a great starting point, as it will help you get a sense of when audiences similar to yours are most engaging with the emails they receive.
From there, you can try different send times to see what works and doesn't work for your specific audience. Continue testing until you find the prime time.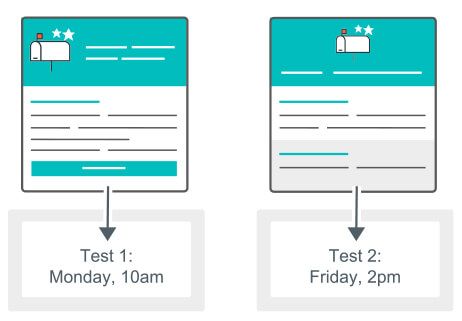 Another thing to consider for your email strategy is the send cadence. You should aim to maintain a consistent email send schedule (such as every Monday or every other Thursday).
This gives your subscribers an idea of when they should expect to receive content from you. In doing so, that makes it easier for you to create emails in a more organized way, and helps you appear more trustworthy.
Send targeted messages
Sending emails to specific segments of subscribers within your email list allows you to send hyper-relevant content to your audience when they need it most.
I feel as though subscribers have a much lower tolerance for generic, irrelevant, emails versus just a few years ago.
- Carl Sednaoui, MailCharts
Here are a few ways you can segment your emails:
Geographical location
There are a variety of situations when you might want to send an email to people based on where they live.
If you own multiple stores in different locations, for example, you might want to send emails to subscribers who live closest to each location. You can send things like exclusive shop offers, upcoming events and even advice or news from local employees. Or, send emails that speak to local events, seasons and holidays.
For those who have subscribers from all over the world, you can use subscriber segments to send emails in their native languages, too.
To discover where your subscribers are located, simply ask them in your sign up from in a custom field. Some email marketing platforms will provide information about your subscribers' geographical location (country, state, zip code) based on IP address.
Email engagement
Sending emails based on subscriber behavior is a great way to provide relevant content to your audience. When someone clicks a link in one of your emails, they're expressing interest in that particular topic. This provides great insight into what content your subscribers find most relevant – and creates a perfect opportunity to create a new subscriber segment.
Say you own a bakery, and you send an email with a link for an apple turnover recipe. If a third of your subscribers clicked the link, you've just discovered a whole group of people who are probably interested in baked goods with apples. Create a segment for those who clicked the link, and send additional emails with more recipes and a discount off an apple-treat from your store.
At the same time, those who didn't click the link in your message might not be interested in apple baked goods at all. You can send them a recipe made with a different ingredient to see if that piques their interest.
To encourage more engagement with your subscribers, consider sending an email to the segment of subscribers who did not open your first message – and be sure to tweak the subject line.
Take Action! Go back to your email marketing goal strategy, and add information about when you plan on sending your emails. When you have it written down, it'll be easier for you (and anyone else on your team) to stick with the schedule. Then, start building your email content calendar for the next two months using the free template that's available when you download the bonus resources.
Ready to start sending emails to your audience? Try AWeber for free today!
---