08. Analyze and Improve Emails
For many marketers, much of the focus for any specific strategy lies in the planning and execution phases. What often gets pushed to the back burner, unfortunately, is the part where you review and analyze performance to make improvements.
But just as analytics are important in every other business strategy, so too is it essential to a successful email marketing strategy.
Review email performance
By reviewing the performance of your emails, you can identify opportunities to improve the impact of your email messages and increase the value you bring to your audience. Fortunately, reviewing your email marketing reports and making improvements isn't difficult.
Here are the key reports you should review to determine whether or not your emails are getting results:
Opens
This report tells you how many people opened your emails and when they opened them. Your open rates can reveal various insights, including how compelling your subject lines are and the best times to send emails to subscribers.
To increase your open rates, you should:
Set clear expectations. Before people subscribe to your email list, they should already have an idea about the content you'll be sending and its benefits. The best places to communicate this is in your sign up form, as well as confirmation and welcome messages. Then, be sure to deliver on that promise. If someone signs up to your list because of the content you said you would deliver, they'll be more likely to open your emails.

Write compelling subject lines. The subject line is the first part of your email subscribers see, so make sure it's engaging.

Use this space carefully and be clear about what the email contains.

While this may come as a surprise, subject lines that directly explain the contents of your emails tend to have open higher rates than those that are more vague or rely too much on humor. People want to know that opening your email is worth their time, so give them a reason to read your message.

Another way to stand out in the inbox is to use personalization, such as the subscriber's first name, in the subject line too.
Click-throughs
Click reports show how many times a person clicked a link in your email. This can shed light as to what types of content resonates best with your subscribers, and what they find less interesting.
To maintain a high click through rate, you can:
Remove underperforming content. If a link doesn't receive a lot of engagement, consider changing the way you present it (such as adding more enticing visuals) or removing it from future emails. Frequently including links that aren't valuable to your audience may hurt their perception of your brand.

Feature popular content. If a link attracts a significantly higher number of clicks than others, continue featuring relevant content and links in upcoming emails. Find a new way to include it again, or share related products or news.

Send targeted emails. If a segment of your subscribers share a strong interest in a particular topic, send a targeted email with relevant content to only those subscribers.
Unsubscribes
Discovering someone unsubscribed from your email list can be disheartening. But it's a great opportunity to explore the reasons why they left, and what you can do to bring them back or prevent others from leaving too.
In this situation, you can:
Ask why they're leaving. On your unsubscribe page, include a question that asks why they've decided to leave your list. Then see how you can use that feedback to improve future emails.

Reevaluate your email marketing strategy. Make sure you're setting your emails up for success and taking care of the basics. This includes using confirmed opt-in for new subscribers (people are less likely to unsubscribe to an email if they take the extra step to confirm their subscription) and setting clear expectations for your email list.

Continue attracting new subscribers. To make up for the subscribers you lost, remain proactive in collecting new email sign ups each month. This will also help ensure you continue growing your list over time.
Deliverability
If you find that some emails are performing considerably worse than others, there may be another issue at hand: your deliverability.
Deliverability determines whether or not your emails make it into your subscribers' inboxes.
Here's a general breakdown of how it works: Every email sender has an email reputation score, which is generated by Internet Service Providers like Comcast and Roadrunner, and mailbox providers like Yahoo! and Gmail.
The score is determined by a number of factors, such as how many emails you send, your complaint rates, your bounce rates, how many times you've landed in the spam folder, how many inactive/old addresses you have and more. If your score is low because of those factors, it can make it difficult for your emails to get to your subscribers.
Part of maintaining good email deliverability also relies on how well you and the email marketing platform you use adhere by the CAN-SPAM Act.
According to this US law that regulates all commercial emails, every email must:
Include a way for subscribers to unsubscribe from an email and

Contain the sender's valid physical postal address.

Be clear about who is sending a message

Identify the message as an ad

Avoid deceiving subject lines
(For more information on the CAN-SPAM Act, you can read all about it here).
In addition to abiding by the rules outlined in the CAN-SPAM act, you can maintain a high deliverability by implementing the best practices mentioned throughout this guide, such as:
Sending valuable content

Emailing frequently

Setting expectations and delivering on what you've promised
Maintaining a healthy email list is an important variable in avoiding the spam folder. As your list grows, you might find that some of your subscribers become inactive; either they don't open your messages or click links within them.
Although it is a bummer, it's important to give these unengaged subscribers a chance to leave your list. If someone hasn't opened your emails in the past six months, there's a good chance they won't open them in the future. And worst of all, they could mark your emails as spam.
Removing these inactive subscribers or kicking off a reactivation campaign can help lower the risk of getting flagged as spam. It also allows you to improve the accuracy of your email analytics. Win-win.
Traffic
Traffic reports reveal how many subscribers are going to your website from your emails. If your goal is to increase sales, this data will show how many subscribers are going to specific pages on your website, such as your blog, homepage, product pages or order page.
To maintain steady traffic to your site, ask yourself the following when creating emails:
Is there a clear call to action? A hidden call to action or none at all makes it impossible for people to take a next step after reading your emails. Whether you direct them to your website's homepage or a blog post, you should include a primary action for your subscribers to take.

Are there links to your site within your email? Including links back to your site can help increase traffic. If you already include links, check to see if any of them are broken and fix them as needed.

Is your content valuable to your readers? If your emails don't pass the "What's in it for me?" test, it's time to rethink your email content strategy. Address the needs of your customers and prospects by delivering information that interests them.

Are my emails consistent? Sending emails infrequently can lead subscribers to forget about your brand. This can cause your emails to go unopened, and therefore, unclicked.
Sales
To see how much revenue your emails generate, you can track the sales that result from each email you send. Once you have this information, you can use it to improve your emails to generate more sales.
To increase your profits, aim to do the following:
Review your content. Look at your emails that attract higher-than-average revenue and those that are total duds. What are you saying (or not saying) in the successful email that goes unaddressed in the underperforming one? You may be inconsistently focusing on a need your subscribers have, or are failing to pique their interest in the products or services you sell.

Remember, your emails should focus on bringing value to your audience.

Send targeted messages to those who didn't make a purchase. Not everyone will buy from you, and that's okay. But that doesn't mean you shouldn't find out why they made that decision.

Sometimes, presenting the original message or product in a new angle can convince them that they need your product. For example, offering an exclusive incentive, such as a coupon towards their first purchase, might encourage hesitant subscribers to give your business a try.
Revenue per email
Return on investment is an essential metric to track, but it is a tricky one. For some, identifying the cost of an email marketing initiative can be difficult. And that's why calculating revenue per email (RPE) can be so helpful.
For sure, the best way to compare across email campaigns that we've found is RPME. Revenue per 1000 emails send. This helps us compare emails with a consistent metric across all the campaigns.
- Noah Kagan, Sumo
With RPE, you can get a sense of how much revenue your email list brings to your business. To calculate the number, simply use the following formula: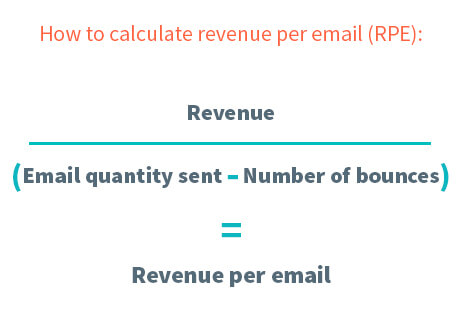 It is important to note, however, that many marketers commonly use a variation of this formula – known as RPME (Revenue Per Thousand Emails) – to identify minor differences between the success across multiple campaigns. RPME is the revenue generated for every 1,000 email messages delivered. To determine this number, all you have to do is multiply the RPE (which is attained using the formula above) by 1,000.
Ask for feedback
While you can use any of the reports above to improve your email content, don't hesitate to ask your subscribers for their opinions, too.
If your goal is to create content your subscribers love, it's often easiest to go right to the source. Simply send your subscribers a survey or ask for them to respond to your email with ideas and feedback.
I look at open rate and click through rate, but I can tell I've really hit a nerve when I get a bunch of replies. That's probably the best measure of an email that really delivered.
- Nick Loper, Side Hustle Nation
Take Action! After you send your first broadcast, review your email open rates. Identify one way to improve the open rates by choosing one element in the subject line you can change (such as adding an emoji or turning the subject line into a question). Then, send the email with the new subject line to subscribers who didn't open your email the first time to see if it increases engagement! Take note of what you discover for future email sends.
Analyze your emails anywhere and anytime with AWeber's Stats app. Try AWeber for free today!
---