Unlock tons of benefits as an ACE
Grow your agency

Serve passionate small business clients

Get more freelance clients

Easily find "perfect-fit" clients

Expand brand awareness

Tap into a network of small businesses seeking expert help

Add a new revenue channel

Expand services that impact your bottom line

Free advertising

Get featured in our directory

Recurring revenue

Earn 30% commission on referrals

Save time

Easy-to-use email, website, and domain tools on one platform

Learn new skills

Unlock access to exclusive educational resources

and much more
Serve passionate small business clients

Easily find "perfect-fit" clients

Tap into a network of small businesses seeking expert help

Expand services that impact your bottom line

Get featured in our directory

Earn 30% commission on referrals

Easy-to-use email, website, and domain tools on one platform

Unlock access to exclusive educational resources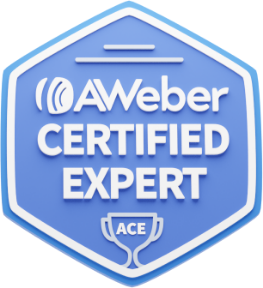 No jumping through hoops here.
Become an ACE in a snap.
1. Complete the ACE application
2. Schedule and conduct a short interview with an AWeber representative
We know you're dedicated to your clients, and we're dedicated to ours. But let's make sure we're a perfect fit.
3. Complete the certification process
Get to know the ins and outs of AWeber's platform to serve your clients confidently.
4. Create your ACE profile
It's time to market your services with AWeber. Be sure to list your specialities and how your unique skills can help small businesses succeed.
Complete your ACE application today
AWeber Certified Expert FAQ