Our team operates in a true spirit of collaboration to create genuine partnerships with our customers. Whether it's working to help a small business owner achieve their goals or offering advice on improving subscriber engagement, our mission is to create remarkable experiences at every step along their email journey.
Chris H.
Director of Customer Solutions
A Day in the Life: Customer Solutions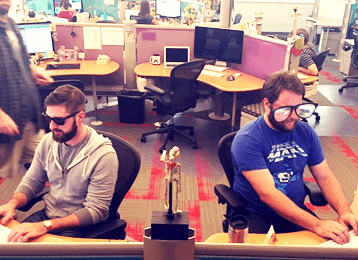 8:00 a.m.
---
Partner with customers and provide support across our main communication channels, like email, phone and live chat. And dodge a few Nerf darts as you attempt to get the last piece of Sarah's crumb cake.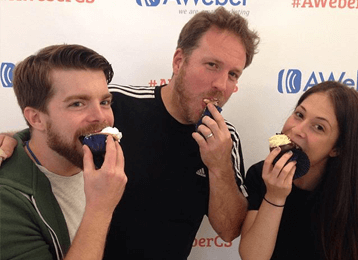 12:00 p.m.
---
Make a mid-shift stop at our cafeteria for some grub (vegan- or carnivore-friendly) and sweets from our in-house chefs.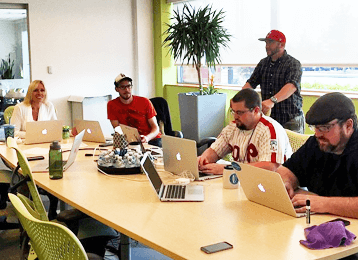 4:00 p.m.
---
Develop your skills in an area of specialized support by working on a passion project like creating an email template for a customer. Or meet with an expert in a different department to develop your career path.
Team Member Spotlight
Mary
Sr. Customer Solutions Specialist, est. 2008
What kind of dog do you have? What's his quirkiest trait?
Maverick is a Shiba Inu. He often tries to catch his tennis ball with his paws and he rarely leaves home without it!
When you're not at work helping customers grow their businesses with email, what do you love to do?
I love to hang out with my friends and dog, eat cookies and make jewelry.
What would a relative or significant other describe as your strangest trait?
The fact that I hate drinking out of plastic.
What's your #1 most played song?
Take On Me – A-Ha