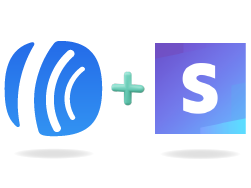 Connect
Not a customer?
Stripe for Landing Pages
Stripe for Landing Pages
Accept Ecommerce payments on AWeber Landing Pages with Stripe. Start receiving the combine power of AWeber and our trusted partner Stripe today!
About
Connect now to:
Sell your eBook or PDF.

Sell access to your awesome webinar or video series.

Sell entry into your membership program.

Sell a 'how to' guide to your audience.

Sell illustrations and templates to your favorite niche.

Sell entry into your spectacular course.

Sell access to an event.

Ask for tips, donations, or fundraise for your passion project.
Turn visitors into customers in record time. Here's how:
Create an AWeber Landing Page with a pre-built template or design your own.

Name your product or service. Set the price. Click 'Publish' - it's that easy!

Watch the money roll in with Reports that show how revenue generated over time.

Let Stripe handle the complexities of charging credit cards, chargeback, refunds, and more.
Note: Because this application is set to single opt-in by default, new subscribers will be added immediately without receiving a confirmation email.
Step by step instructions on how to integrate Stripe for Landing Pages with AWeber
Author: AWeber Communications, Inc.