Introduction
Build awesome emails in AWeber!
With our Drag and Drop Email Builder, you don't need to be a designer or know computer code to create remarkable emails.
In this video course, you'll learn how to build an email from scratch with ease by customizing one of AWeber's email templates. Let's go!
View lesson transcript
Hello and welcome to AWeber!
I'm Tom Tate, Product Marketing Manager here at AWeber, and in this series of short videos, I'll walk you through how to create an awesome email with AWeber that will match your brand and delight your email subscribers.
After watching these six brief videos lessons, you'll be ready to build your own incredible emails.
The best part– with AWeber's templates, layouts, and free images, you don't need to be a graphic designer or know how to write computer code.
So let's jump in and get started…
These videos will explore AWeber's Drag and Drop Email Builder.
If you are just getting started with creating your own emails, this is the best place to begin. If you are an advanced email designer, or you are using a custom HTML template, you may use our alternative editor, the HTML Editor.
For now, simply log in to AWeber. Select Create a Message and choose Drag & Drop Email Builder.
Welcome to the builder!
Your default template may look a little plain at first, but I'll quickly teach you how to navigate the email builder, select a layout or template, add your own text and images, experiment with some advanced features, and finally test and save your message.
I can't wait to see what you create!
Don't forget, if you need us, don't hesitate to give us a ring. Our team of email experts are available by phone, email, and live chat. Our chat support is available 24/7, because a quick question should never keep you in the way of connecting with your audience. There's a link to reach us on this page.
See you in the next video!
Collapse transcript
Lesson One
Using the Email Builder
In this first lesson, I'll give you a quick tour of AWeber's Drag and Drop Email Builder.
Whether you're an email pro, or just getting started, creating and sending an email to your audience should be a breeze!
In this lesson, you'll learn:
How to access the email builder
How to edit your subject line and preheader text
How to use AWeber's draggable email elements
Where to find templates, and much more...
Let's jump right in!
View lesson transcript
Welcome back, I'm Tom Tate and in this video, I'll give you a quick tour of AWeber's Drag and Drop Email Builder.
Let's jump right in!
Welcome to AWeber's email builder.
Before we start building, let's take a quick tour.
Take note of the blank field above the builder's canvas. This is where you'll add your subject line.
Every email you send with AWeber needs a subject line. This is what appears in your subscribers' inbox to let them know what your email is about.
You can even personalize your subject line by including your subscribers' first name, or other bits of information that you may have collected when they signed up.
For more on subject lines, please see the related resources listed for this lesson a bit further down the page.
Now let's talk about the text in your actual email.
Beneath the subject line field is a toolbar to manage your text attributes. These options will help you change your font size, color, or style. You can also add links, bulleted lists, or custom HTML.
These options should be familiar to anyone who has used text editors in Microsoft Word or Wordpress. If you haven't, we'll cover working with text in a future video.
In the center of the canvas you'll find a preview of your email draft.
On the right side, you'll find your message properties.
This will list your active template, an option to select a new template, a background color switcher and your Undo and Redo buttons. There is also a text field to edit your message preheader text– which is a snippet of preview text that most subscribers will see next to your subject line. It might be cut off on mobile devices or certain browsers, but it's a good practice to customize this text.
We've shared a great article to learn more in the resources for this lesson.
On the left side of the builder, you will find various elements that you can drag and drop into your email draft.
Think of these elements as the building blocks of your message.
You can create an email using just one element, such as the text-only email using the paragraph element, or you can use as many elements as you'd like– adding multiple articles, buttons, images, and more.
Simply select the element of your choice, and drag it into the Canvas.
Certain elements will have extra options that you can select or configure.
For example, when you drop the Button element into the Canvas - you can then modify the Button's text, link, text size, font, color, and more on the right panel of the builder.
We'll go through the process of customizing a button in a future lesson.
When you have multiple elements in your message, you can use an element's drag handle to rearrange its positioning within the message.
You can also easily copy or delete elements as needed.
Made a mistake or two? Don't worry. The editor auto-saves your draft every two minutes. Simply select a revision from the bottom "autosaves" menu to go back in time.
You'll also notice at the bottom left corner of the screen there is a paper clip icon.
This allows you to attach a file, like a small PDF, to your draft. You can attach up to one megabyte (1 MB) to any message you send out through AWeber, however, we recommend linking to a self-hosted version of the file, either on your website or through a service like Dropbox. For more information on files, give us a shout by clicking the contact us button this page.
And finally, you can preview and test your message by selecting Preview and Test.
This will show you how your email will look in the average inbox. You can add your email address, send a test, and check out your message on your own devices before sending!
In the next video, we'll choose a layout or template to match your brand, business and email strategy.
Collapse transcript
Lesson Two
Choosing an email template
Want expert help? Learn more about our custom template service!
AWeber has hundreds of email templates to choose from!
In this lesson, you'll learn:
How to navigate the template gallery
How to select the perfect template for your needs
How to modify the template to match your business or brand
Let's go!
View lesson transcript
AWeber has hundreds of email templates to choose from.
I'm Tom Tate, and I'll help you figure out which template to choose– whether your just get started, or you're an email pro.
In this brief video, I'll show you how to select the perfect template. You'll learn how to navigate the template gallery, choose a template, modify it to match your brand, and save it as a custom template for further use.
Let's get started.
When viewing your draft, look for the Message Properties panel on the right side of the screen.
This will indicate what current template you have selected.
To choose a new template:
Click the "Templates" button and you will see a slide-out menu revealing AWeber's template options.
At the time of this recording, the templates at the top of the menu consist of our 8 layout templates.
Layouts are plain for a reason! They are designed to be easily customizable to match your own brand and style. That way, if two people choose the same layout, the end results will look completely different and unique!
If you scroll below these, you'll find a few more valuable templates, like our default and survey template. And below these, are more designed templates. If you'd rather not spend any time customizing a layout, these templates look great and are ready to use as-is!
When evaluating templates, I recommend unchecking "keep my message content." That way, you can load each template in full to see how they look — and then you can fill in your content. However, unchecking this will remove any content that you've already started adding to your draft.
If you keep the checkmark above "Keep my message content," then it'll pull in any content you've already started adding to your draft. The builder will only fill in the parts of the templates that you have content written for. If you don't have enough content, then it won't populate those areas of the template and the layout may not appear exactly as intended. That's why I recommend typing in your content after you've selected your template.
Now that we've reviewed the template gallery, let's take a quick look at the 8 layout templates.
Each layout template title indicates what the template might be best used for. There's the Letter template, perfect for a letter or stationary style email, like a welcome message or a personal note.
Newsletter, which has all of the components of an effective brand email newsletter.
Email course, which is perfect for sending an automated educational email series.
Z-Pattern, which can be used to show off new products, blog posts, podcast episodes, or news articles in an alternating zig-zag pattern. This provides some added visual variation if you are showing multiple elements.
Event, which is perfect for sharing details on a live or virtual event.
Notification, which is ideal for a single announcement, like a product reveal, book launch, or on-line sale.
Product, is helpful to showcase multiple products, and also makes use of our coupon element.
And finally Transactional - which is typical for triggered emails that require a short announcement, a single call-to-action button, and a few informational call-outs.
For this video, we'll select the Newsletter template and click apply.
Now the first and easiest thing you can do to customize your message is to select the background color using this handy color switcher. Select a color from the palette below, or enter in the exact color code to match your brand.
Before we wrap up this lesson I want to also mention, AWeber also has a custom template team that can work with you to create a custom email template. Check out the resources section for this video to learn about custom template pricing and more.
Next up, I'll show you how to customize your template even further by adding text, links and images.
See you in the next video.
Collapse transcript
Lesson Three
Adding text and images
Text, links, and images will be the main building blocks of your email. In this lesson, here's what you'll discover:
How to create columns and rows
How to add your own images, or choose one from our image gallery
How to add and customize text
How to create links in your email content
Let's learn how to do it!
View lesson transcript
Welcome back, I'm Tom Tate at AWeber and in this brief video, I'll show you how to add text, links, and images to your new email template.
Let's pick things up where we last left off in the drag and drop builder. Remember we selected the Newsletter template from the template gallery and changed the background color to match our brand.
We'll start by updating the logo and featured image.
When you select the placeholder logo, you will see a few options appear on the screen.
Emails are typically constructed using rows and columns.
A row will be outlined in blue. You can copy an entire row by clicking the blue "Copy" icon.
After copying, you can move the duplicated row around, or trash the copy.
In the floating menu above the row, you can adjust the alignment of its contents, add a new column, or add a new row.
A column will be outlined in black. You can add columns and adjust their width easily.
For now, we simply want to upload a new logo.
After you click the logo, you'll see image options in the right image details panel.
Click "upload an image" to upload your logo from your local hard drive. We offer unlimited image hosting at AWeber, so feel free to upload any images you need. There are no caps or quotas to worry about.
After uploading the logo, use the drag handle to resize it, or set an explicit pixel size in the image details panel.
You can adjust the alignment here, as well.
Be sure to update the image link and image alt text. The link will direct your readers back to your website, or the primary location for your business online. Adding a descriptive alt text makes your email more accessible to readers who are visually impaired and will appear if a reader chooses not to load images in their emails.
Next we'll replace the placeholder featured image.
Click the image to open the image detail panel.
Rather than uploading an image, let's select Image Gallery.
There are two tabs present when you open the image gallery.
The first tab includes free stock images that you can use in your emails. The second tab includes any images that you've personally uploaded. This should now include our logo from the previous exercise.
Rather than re-upload your logo each time you'd like to use it. Simply choose it from your personal image gallery.
For the featured image, we'll tab over to the image gallery. Here you can browse by category, such as travel or health and fitness, or you can search by keyword.
Try typing in FOREST.
Here you'll find many images of nature that could be perfect to set the tone for this week's newsletter.
Remember to set the image link and alt text after inserting the image.
Next, we'll update our first section by editing the template's text content.
To edit the text, first select the row and highlight the text.
Once highlighted, you can use the text toolbar to change the attributes and properties of the text.
You can update the font and font size. Apply emphasis, using italics or underlining, change the color, or change the alignment.
In the case of a headline, you'll likely want to link the headline to the article or content it is referring to. Simply highlight the text and select the chain-link icon.
You can easily create links by adding your URL– this is the webpage that you want to link to. There's also an option to create email links if you want your subscribers click a link that opens an email draft.
Editing paragraph text works the same way. You'll simply highlight the text to edit, just as you would any other text editor.
Here is one pro-tip. Creating your email copy in Microsoft Word or other editors can sometimes be problematic when copying and pasting it into AWeber. This is because you are copying and pasting special formatting styles from those programs. I always recommend writing email copy in a plain text editor like TextEdit on Mac or Notepad on Windows, and copying and pasting from a that editor to avoid any unwanted formatting issues.
Check out the resources section of this video for more information.
If you want to add more images, simply drag in the image element into your message. An image cannot be directly added to a paragraph or headline element, but can be placed above or below your text elements. If you adjust the image alignment to be left or right, the adjacent text will wrap around the image.
If you're having trouble achieving a certain effect, don't hesitate to chat with our team. We're available to chat with 24/7.
And finally, let's customize our call-to-action button– which should drive your readers to a destination, like a product page or piece of content.
Clicking on your call-to-action button will reveal button settings in the right panel.
Here you can adjust the button label, the URL you want to link to, the text size and color, the font family, and of course, the button color. You can also adjust the alignment if you want it to be left or right aligned.
We will adjust the button color and text color, and there we have it! Our template is really coming together.
In the next video, we'll explore a few additional elements in AWeber's drag and drop email builder and we'll finish up our first template.
See you in the next video.
Collapse transcript
Lesson Four
Dragging and dropping elements
We've learned how to add text, images, and buttons to our new email layout. But there's plenty more functional and visual elements to check out.
In this lesson, you'll learn:
How to drag and drop additional elements
How to add videos, products, and coupons to your email template
How to structure your email with dividers and a signature
How to grow your email list using the Share element
Let's keep building!
View lesson transcript
Welcome back! Our newsletter template is looking great!
In this brief video, I'll show off a few additional elements that you can experiment with using the Drag and Drop Email Builder.
Let's dive in…
We've already seen the paragraph, headline, image, and button elements. Now, let's take a look at a few additional options you can drag into your draft.
First, let's pull in the Video Element.
The video element integrates with YouTube and Vimeo. After dragging in the element, paste the URL of the intended video into the Video URL field. AWeber will then grab the title, destination URL, and thumbnail for the image automatically!
You can edit the Title and Destination URL if you choose.
When a user clicks the video thumbnail, they'll be directed to your destination URL.
Up next, we'll pull in the Product element. This is a simple formatted block of content that features an image, product title, product description, cost, and button. You can use the Product URL field to choose where to link to.
Let's take a look at the Coupon Element.
If you have a retail shop or local service business, you can share a special coupon offer for your subscribers to redeem. This element will preformat a coupon with a dashed border. You can adjust the content of your coupon, the style of your border, and the width and color easily.
Use the coupon element to drive traffic back to your store or business.
The divider element will help you break up your content by adding a simple divider.
And the signature element will provide a pre formatted signature with a placeholder for your headshot, if that's how you'd like to sign off your emails. Be sure to smile!
Okay! There is one more valuable element to take a look at.
One of the best ways to grow your email list is to give your subscribers easy ways to share your best content.
AWeber makes this easy by hosting an web archive of your emails that even non-subscribers can access. With this archive, your subscribers can share a link to a web version of your emails easily. Better yet, there's a signup form on that page to help you grow your audience.
The Share element makes it easy for your subscribers to share a link to your emails. Simply drag in the element, select which social networks you want to provide options for, adjust the shape and size, maybe update the share call to action text, and you're email is ready to go viral!
By default, users will share a link to the archived web version of your message, but you can optionally set a custom URL here, as well.
Remember, as you add elements to your draft, you can copy individual elements or full rows. You can also use the drag handles to move the messages around. If you see something you don't like, you can hit the trash icon and delete it.
After building the perfect message, it's time to save and test it.
In our next video, I'll show you how to put the finishing touches on your message, and get it ready for sending.
Collapse transcript
Lesson Five
Finalizing your email draft
After building our first draft, we're ready to send! Scheduling a broadcast, or one-time email in AWeber, is super simple.
In this lesson, you'll learn:
How to test your draft before scheduling
How to schedule and send your email
Advanced options, like AWeber's open and click-based tag automations
Let's get ready to send!
View lesson transcript
Welcome back!
Now that we're ready to send, let's learn how to save our draft, and more importantly, save our draft as a template that we can use again and again.
If you plan to use your template format for future emails, it's best to save it as a custom template.
In the message properties panel, select the green "Save As Template" button. Your template will be saved in the "My Templates" section of the Template Gallery using the name of your choice.
One strategy to consider is to customize a few of the layout templates that you are likely to use - such as letter, newsletter, event, and product.
After each of these match your brand and compliment each other, save each of them as a distinct custom template.
You now have the perfect template for each of these common scenarios ready to go!
Before you Save and Exit, it's a smart move to always preview your email.
Click the preview button and give your email a quick review. Be on the look out for typos or grammatical errors. If you are using personalization, make sure the snippets are correct.
When sending a test email, use the Personalize drop down to add any details like a test First Name to make sure that everything is working properly.
We also recommend sending a test email to yourself and reviewing it on your mobile device.
If everything looks good, you can now Save and Exit.
Once you save and exit your draft, you'll be directed to the drafts page.
Here you can select Send Options, you can send one more test email to see how it looks in your own inbox, or mobile device, or schedule a broadcast, which is a one-time email, such as a newsletter or promotion.
You can schedule and send your broadcast in just a few clicks.
First, confirm your subject line.
Decide if you want to publish your email on a public AWeber archive. This will allow you to share your email on the web using a direct link– which you'll want to do if you are using the Share element. This feature gives your subscribers a link to share.
Choose who should receive this message. The default choice here is to send to all current (or active) subscribers on your main list.
You can now determine when this email will be sent. You can send immediately, or schedule it to be delivered at a date and time in the future. Using the calendar date-picker, choose a date, select the time and time zone, and click apply.
Finally, you can optionally include "automations" with your broadcast. Automations are a simple way to automatically add or remove tags when your subscribers take certain actions, like open the email or click on specific links. Adding and removing tags are important when creating segments, which are groups of subscribers based on certain behaviors, interests or attributes, and triggering automated email campaigns.
If you want to use automations or just track the links your subscribers click, leave the first message option "Track clicks on website links in this message" checked on.
Click Send Message Now or Schedule Message and you've now sent or scheduled your first broadcast email.
If you've been following along yourself, congratulations, you're now equipped to construct and send your email!
In our next brief lesson, we'll wrap up a few loose ends, and I'll share with you some additional resources to help you get started and take your email design to the next level.
Collapse transcript
Lesson Six
Frequently asked questions
Our awesome customer solutions team fields many great questions from users like you who are new to AWeber. Check out some of the frequently asked questions below, links to additional resources, and contact information for our team.
Don't hesitate to get in touch with our team!
View lesson transcript
Welcome to our final lesson.
Over the course of these videos, you learned how to craft an email using AWeber's drag and drop email builder. We learned about layouts and chose a template.
We customized the look and feel of the template to match a specific brand or purpose. We saw how to work with images, text, and links.
We learned about the various drag and droppable elements that we can add to our messages, like the video and share elements. And finally, we tested, saved, and scheduled our message to be sent.
On this page, I've listed a few additional resources to help you with your email design. You'll find frequently asked questions, by new users just like you, as well as a few links to additional articles and videos that will help you craft the perfect email.
As a reminder, our team currently offers custom template design as a service. We can create a custom template for you from scratch, or help you match your website branding or template from a previous email provider. Simply chat with our customer solutions team, who is available 24/7 and let them know you're interested in learning more.
Of course, you can also feel free to contact our live customer solutions team for quick and unparalleled support if you have any other email marketing questions, as well.
The contact information is listed on this page below.
Until next time, I'm Tom Tate, and best of luck with your email marketing
Collapse transcript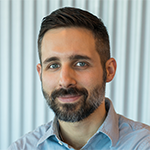 Tom Tate
Product Marketing Manager
I'm here to help you grow and engage your audience online with email marketing and automation. With over a decade of experience working in marketing and technology, I'm eager to share everything I know to see to your success in using AWeber. In addition to my product role, I also host podcasts, including AWeber's Ask Me About Email Marketing.
Who is AWeber?
AWeber is an easy-to-use email marketing tool that allows business owners and entrepreneurs to cultivate relationships with their customers. Since 1998, AWeber has been the email engine powering the growth of organizations around the world, including leading sites like Social Media Examiner and ProBlogger and industry influencers such as Peter Shankman and Ann Handley.
Today, more than 100,000 businesses, entrepreneurs, agencies and nonprofits are making the most of AWeber's sophisticated segmentation and analytics capabilities, extensive template libraries and industry-leading deliverability and live support.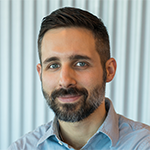 Tom Tate
Product Marketing Manager
I'm here to help you grow and engage your audience online with email marketing and automation. With over a decade of experience working in marketing and technology, I'm eager to share everything I know to see to your success in using AWeber. In addition to my product role, I also host podcasts, including AWeber's Ask Me About Email Marketing.